The lesson of the Japanese painting in English finished satisfactorily.

The hope of the student who has studied Japanese paintings beforehand performed practical skill concerning a few ,leafs and "Shi- Kunshi" of a drawing in chinese ink.
It was unexpected contents that telling most was difficult for.
It is about an image called something in one in "Sunago(Gold dust)".
Gold dust and how to use leafs are demonstrations, and were understood immediately.
They say that Indian she does not know for what purpose it winds in what kind of image.
This question was a question which has not come out of a Japanese student.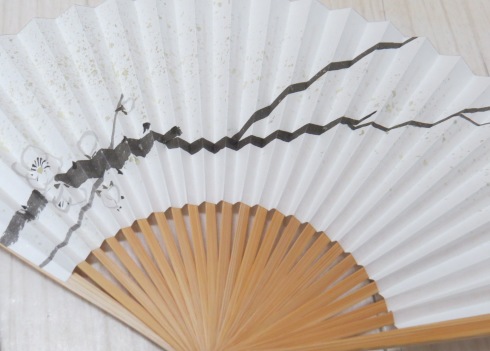 What is gold dust?
sometimes it is the light of a day, and is the light of the moon, and a star twinkles,it is a flow of a wind, and it is clouds and atmosphere.It is a haze and it is air and it is humidity and it is decoration.
Explaining what gold dust is, since I aspired after the Japanese style painter, I have visualized many noted precious articles of the art history of this country which was desperate, and went to a museum or temples and shrines, or was copied and studied.

And I got to know which many outlooks on nature were entrusted to the "gold dust" of these gold and silver symbolized very decoratively, and it was loaded with religious yearning.
About it, naturally I noticed whether Japanese people would understand, even if there was also no explanation of a word.

another is a chinese ink painting and is "Kunshi" at the time of explaining 4 Kunshi .
If you are a Japanese, isn't there any memory which received education in Chinese writing "子Shi" reason --, once or twice?
If a dictionary is consulted, with Kunshi, it will be educated and will become a thing like the person who was excellent in character.
A cultural background is deep and it is very difficult to tell this delicate nuance.
I translated literally from the words and phrases of the dictionary frankly.
Interpreters suffered whether there was any intensity and troubles very much, and it was translating it carefully.
After finishing drawing, unfilled space was vacant on the picture.
I was told that it might attach to a picture and might write poem.
She was asked whether to have been a haiku poem.
I told the haiku poem was casual and Chinese poetry reported that it was formal and the rank was a top.
The feeling which attaches a haiku poem to Shi-Kunshi is also the feeling which Japanese people do not have.
aesthetic sense as important, feared limiting a sense of values to the aesthetic sense for every time and a certain group of a certain, and did not dare to have explained minutely.
But, it considered that I render language, and take up, investigated and explained the example of the past work of art, or I argued about it and contemplated on the abstract esthetic concept which made history and culture the background more like a very important thing.
Also when I consider creation as my Japanese-style painter, I am important for it.

About Japanese pictures, I am explaining and was made into many things in the restorative in foreign one.